Artificial Intelligence based cybersecurity for connected and automated vehicles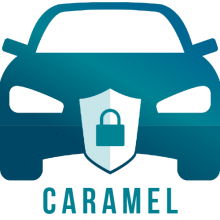 Project Type
EU-funded projects (H2020/Horizon Europe)
Contact Person
Jordi Guijarro, i2cat, jordi.guijarro@i2cat.net
What makes the project concept unique?
In the CARAMEL project, we strive to implement machine-learning based detection of attacks against the connected and/or autonomous vehicle by analysing sensor data, V2X data, and the status of embedded controllers like the OBU (on-board unit) in real time using a tamper-proof device that directly integrated into the car - the anti-hacking device (AHD). This architecture and concept is novel and innovative, and CARAMEL is the first project to implement and demonstrate this.
What project outcomes can be of use to the DATE 20

22

community?
Even as CARAMEL implements its concepts and architectures in the automotive space, the key CARAMEL innovations are transferable to other IoT and Embedded applications domains as well, such as factory floors, building automation systems or others. Therefore, the CARAMEL presentation and presence of CARAMEL representatives during the conference would be of value to the DATE 20

22

community.
What inputs (solutions) are expected from the DATE 20

22

community?
In the CARAMEL project, several integration options for the anti-hacking device based on different IoT devices have been pursued already. However, in order for the concept to be commercially viable and cost-effective, the concept of a machine-learning-based intrusion device must be even better integrated into commercial offerings for the Automotive and IoT market. The DATE 20

22

community could provide valuable input for that endeavour.
What new research topics and trends the project introduces?
CCAM and IoT both will face important security challenges in the future as bad actors discover these new areas for their activities. Since bad actors will use machine learning to subvert machine-learning based processes and algorithms in the CCAM and IoT world (eg. using Generative Adversarial Networks (GAN)), a trend in the security industry is also to use machine learning to detect and counter these attacks. The CARAMEL project showcases this approach in the Automotive context.
Project partners:
Fundació Privada i2CAT, Internet i Innovació digital a Catalunya, Spain
DEUTSCHE TELEKOM SECURITY GMBH, Germany
ALTRAN DEUTSCHLAND SAS & CO KG, Germany
EIGHT BELLS LTD, Cyprus
UBIWHERE LDA, Portugal
CYBERLENS BV, Netherlands
GREENFLUX ASSETS BV, Netherlands
SIDROCO HOLDINGS LIMITED, Cyprus
0 INFINITY LIMITED, UK
UNIVERSITY OF CYPRUS, Cyprus
University of Patras, Greece
Idneo Technologies SAU, Spain
AVL LIST GmbH, Austria
PANASONIC AUTOMOTIVE SYSTEMS EUROPE GMBH, Germany
ELECTRONICS AND TELECOMMUNICATIONS RESEARCH INSTITUTE, South Korea
KOREA AUTOMOTIVE TECHNOLOGY INSTITUTE, South Korea
MOBIGEN CO LTD, Republic of Korea
ATOS IT SOLUTIONS AND SERVICES IBERIA SL, Spain