Joint Electrocic Roadmap for innovations in the automobile value chain!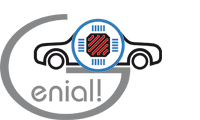 Project Type
nationally-funded project, funded by the German Federal Ministry of Research and Education, Funding Label: 16ES0865-16ES0876
Contact Person
Berthold Hellenthal, Audi AG, berthold.hellenthal@audi.de
1. What makes the project concept unique?
The GENIAL! Project targets the organization of innovations in complex value chains, in particular in the automotive domain, from semiconductor manufacturer up to OEM. Existing modeling languages, tools and methods for systems engineering focus on a concrete development process. GENIAL! extends their scope by a temporal dimension for estimation of performances and planning innovations in the mid- and long-term future.
For this purpose, GENIAL develops:
A cloud-based repository of functions, performances, and its future availability and means for consistency checking and constraint propagation (AGILA).
A modeling language (SysMD, leaning towards SysML v2 textual) with low entry-hurdle that permits contributions from different domains.
A graphical frontend (IRIS) for interactive analysis, exploration of the innovation-space, and collaborative planning of innovations.
2. What project outcomes can be of use to the DATE 2022 community?
The project outcomes are at one hand the above-mentioned tools and processes for analyzing future innovations in the value chain. At the other hand, concrete libraries and roadmaps targeting the automotive and microelectronic domain are expected outcomes in the next two years. While the libraries target simplifying the analysis, the roadmaps are agreed and public results that answer important questions such as which innovations at the (functional) level of an OEM are expected in the future, which enabling technologies from the semiconductor side are expected, and how these interact.
3. What inputs (solutions) are expected from the DATE 2022 community?
The GENIAL! project aims at feedback from the DATE 2022 community regarding the feasibility of the GENIAL! Approach in order to further improve the projects's outcome. Furthermore GENIAL! is open for further contributors.
4. What new research topics and trends the project introduces?
GENIAL! introduces for the first time means (processes, tools) for the systematic long-term collaboration and planning of innovations in a complex value-chain.
Project partners:
AUDI AG, DE
Eberhard Karls Universität Tübingen, DE
edacentrum GmbH, DE
HELLA GmbH & Co. KGaA, DE
Infineon Technologies AG, DE
OFFIS - Institut für Informatik, DE
Prozesswerk GmbH, DE
Robert Bosch GmbH, DE
Technische Universität Kaiserslautern, DE
UNITY AG, DE
Universität Ulm, DE
Cadence Design Systems GmbH
Continental Automotive GmbH
Dream Chip Technologies GmbH
Fujikura Technology Europe GmbH
Globalfoundries Europe Ltd.
HOOD GmbH
Intel Deutschland GmbH
Microchip Technology
NXP Semiconductors Germany GmbH
Siemens AG
SIL System Integration Laboratory GmbH
Synopsys GmbH
System Integration Laboratory GmbH
Volkswagen AG